Family Resources
Free Online Tutoring for Hartford Public School Students Grades K - 12: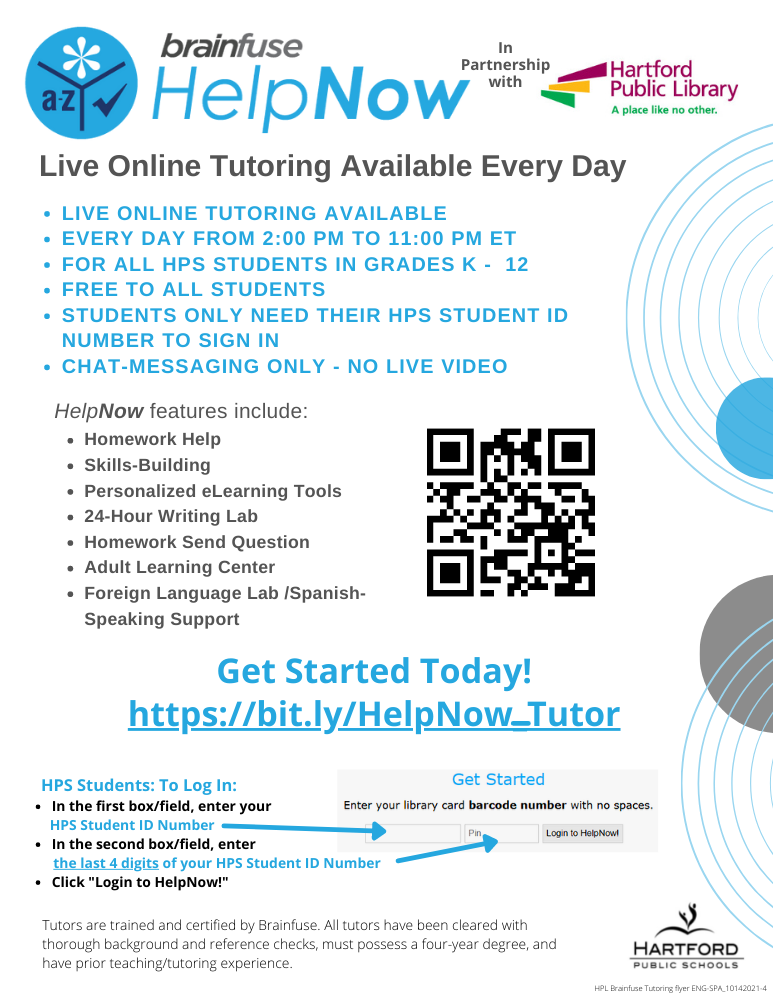 COVID RESOURCES:
Schedule an appointment for a free covid test using the links below:
https://www.cvs.com/minuteclinic/covid-19-testing
https://www.walgreens.com/findcare/covid19/testing/consent?ban=covid_vanity_testing
Schedule an appointment for a free vaccine using the links below:
https://www.cvs.com/vaccine/intake/store/covid-screener/covid-qns
https://www.riteaid.com/pharmacy/scheduler
FREE BOOKS FOR KIDS UNDER 5: DELIVERED RIGHT TO YOUR HOME:
Imagination Library will send them a new, age-appropriate book each month for FREE. If you sign up when your child is born, that's a total of 60 free books by their 5th birthday – plus monthly tips to help them grow into lifelong readers. There is no cost or obligation to your family!
2020 Election Resources
FREE Computer Basics Workshops for Adults - provided in partnership with the Women's Mentoring Network Inc.
Get all your questions answered and get the help you need to improve your Computer Skills. Schedule an appointment to get personalized assistance. Sign up for our group sessions. Adults & students welcome. Classes & one-on-one assistance available in both English and Spanish. All programs and services are Free.
Classes held on Zoom:
English classes - Mondays & Wednesdays at 6:00 p.m.
Spanish classes - Thursdays at 12:00 p.m. and Saturdays at 1:15 p.m.
Make an appointment for a personalized tutoring session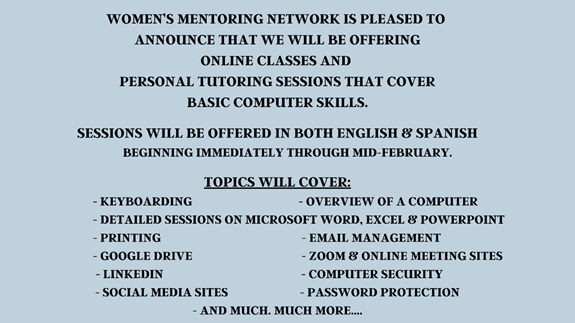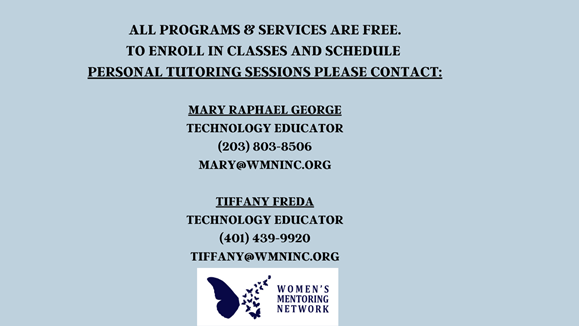 I AM ENOUGH Counseling Services - For young girls aged 5-10
Coping with Racism and Current Events Support Group
Internet Essentials from Comcast - Apply for 2 months of free, high-speed internet
Hartford Families Resource Packet - Services for basic needs, healthcare and behavioral health, phone services, meal distribution sites, and more
Student Meal Pick-Up Locations - Meals are distributed Monday, Wednesday, and Friday from 9 am - 12 pm
Hartford Public Schools Resource List - Click here to access a list of free resources for families from the Center for Children's Advocacy, in partnership with Hartford Public Schools
Internet Access during the COVID-19 Crisis - EXTENDING FREE PUBLIC WIFI ACCESS TO EVERYONE FOR THE REMAINDER OF 2020. To continue to help keep people connected as the country prepares to reopen, we are extending free access to the 1.5 million public Xfinity WiFi hotspots to anyone who needs them, including non-customers, through the end of 2020. Click here to learn how to find a Xfinity WiFi hotspots.
Foodshare - If you would like to find the location of a Mobile Foodshare site near you;
Call 860-856-4321 (24 hours)
Visit Online Schedule foodshare.org/mobile or
Text "Foodshare" to 85511
Free Financial Coaching to Help You Navigate the COVID-19 Crisis. Click here for information on accessing this resource. Para español, haga clic aquí.